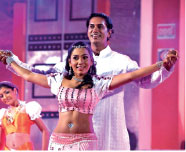 One of the most anticipated events in the country's arts calendar, 'Munchee Samaga Ridee Reyak' unfolded its seventh chapter at the BMICH recently with over 50 artistes, youngsters and seniors, taking to the stage with delightful performances.
Sabitha Perera and Channa Wijewardana
Chathurika Peries and Roshan Pilapitiya
Nilanthi Dias
Sachini Ayendra with a dancer
'Munchee Samaga Ridee Reyak 7' is put together by the Cine Star Foundation headed by NFC Chairman Jayantha Dharmadasa and sponsored by Munchee (Ceylon Biscuits Ltd.) as part of its corporate social responsibility projects. Each year the event takes shape to raise funds for the health scheme of cinema artistes.
Around 25 enchanting items comprising dance and skits took shape at 'Munchee Samaga Ridee Reyak 7'.
"This year's event opened with 'Swarna Vimana'. There was an array of dancers dressed in yellow and gold and our screen queen Malani Fonseka burst into the scene amidst the dancers," renowned dancer Channa Wijewardena, the director and choreographer of the event explained.
Other noteworthy items included a comic skit performed by Tennyson Cooray and cinematic fight sequence between Jeevan Kaumaratunga and Teddy Vidyalankara.
According to Wijewardena the concept of a dance item is important as it is that feature which he takes to consideration when developing the act.
He said: "Professional dancers are involved with the art for at least nine hours per day but it is not the same when you choreograph an act for a cinema artiste.
They have to be involved in the field to do a proper dance act. I need to know what exactly to take out from them to bring out the best of their abilities. The interior movements which come out of their acting should be brought to light. I create the act out of the movements which are familiar to them."
The 'Ridee Reyak' series is Wijewardena's brainchild. Ever since its inception, the gala night which comprises artistes' dance performances has taken the country by storm. Tickets have been booked even before they went to print and many who had been among the audience pining to see the event live had to turn back as the premises was mobbed by fans.
The 'Ridee Reyak' group had already completed a couple of shows overseas at the Sydney Opera Theatre and Dubai.
Channa who will be choreographing the dance items for two major awards events this year, the Sarasaviya Awards and the Presidential Film Awards, said that choreographing for an awards night is very different from putting up a 'Ridee Reyak' performance.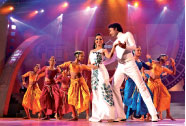 "We have to incorporate dance items while giving prominence to the awards ceremony," he expressed.
He wishes to thank Ravindra Randeniya, Dillhani Ekanayake, Tilak Hewakapuge and Munchee for the support they had given for setting up the program.
In addition to the entertainment Munchee also distributed special cash donations to senior artistes Udula Dabare and Harun Lantra in recognition of their contributions to the local film industry at 'Munchee Samaga Ridee Reyak 7'

---
Permissions in this forum:
You
cannot
reply to topics in this forum